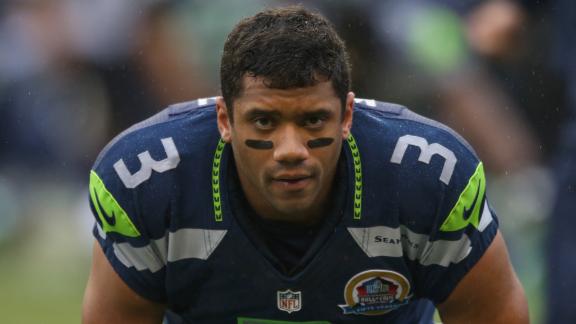 Every champion was once a contender that refused to give up.
-Rocky Balboa-
2013-NFL team made the playoffs with a losing record and won wild card game
2014- NFL Super Bowl champion
2015-Played and won an instant NFL classic in the NFC Championship game vs. the Green Bay Packers and advanced to Super Bowl.
Whether you like them or not there is no discrediting the Seattle Seahawks and Russell Wilson.
4 interceptions thrown in the NFC championship! Russell Wilson threw his 4th interception with 5:04 left in the game. I sat there watching this unfold and I thought to myself, how would I respond if I threw 4 interceptions? Would I keep throwing to the same guy? Would I even keep throwing? How was Russell able to keep throwing? Here is part of the answer.
I just believed," Wilson said as he stood at his locker, taking in the emotion of the moment. "We all just kept believing in each other, and I just believed we were going to make the plays that we needed to make — that somehow, we would get it done. I believed we could overcome the turnovers and the mistakes and the adversity.
"And when you do all that, and overcome the odds, it makes the game that much sweeter."
Belief=Behavior=Results
How many times have you heard life is a mental game? Countless times right?! After reading numerous articles, Russell subscribes to the school of Power Visualization. He created his beliefs in his mind before ever playing the game.
This isn't a new concept. From Muhammad Ali to Michael Jordan to Jack Nicklaus, Jack said, "I never hit a shot, not even in practice, without having a very sharp in-focus picture of it in my head". These superstar athletes along with many others attribute a large portion of their success to Power Visualization in addition to practicing and honing their craft… At first glance one might think its some Self Help/ Motivational speaker talk… Is it though? Research has been conducted and has proven that Power Visualization works.
How does it work and why?
The subconscious mind accepts the thoughts that you often repeat. When it accepts them, it changes your mindset accordingly, as well as your habits and actions. This brings you into contact with new people, situations and circumstances.
Here are 4 steps to Power Visualization.
1. Establish a high target and goal- What is it that you are going to accomplish?
2. Imagine what you want to accomplish in full detail. First person and Third person viewpoint.
3. Engage all of your five senses. Who are you with? What are you feeling right now? Your clothing? Is there a smell in the air? What do you hear? What is your environment? Stand or sit straight in a power position.
4. Practice at night or in the morning (just before/after sleep). Eliminate any doubts, if they come to you. Repeat this practice often. You are working your mental muscle. with every rep you are getting stronger and stronger.
Vision without execution is just hallucination."
― Henry Ford
You can visual what you want it, but you also must act on what you visualize for it to become a reality.
Do you have a story about Power Visualization? Do you have additional insights? I would love to hear it. Please share your story either via comment or email.
Tony Jalan
Equip, Educate, Empower, Encourage
Like, Share, Comment